R-FFS-K-A4 Frame fixing with the shortest anchoring zone and collar hex head – stainless steel
Universal frame fixing with collar and hex head screw for many applications
Features and benefits
Collared plug for fixing of hard materials (eg. steel)
Specially-formulated nylon allows best performance installation for use in all base material categories according to ETAG 020 (A, B, C, D)
Internal plug geometry designed to fit the screw head
Plug design ensures multi-axis expansion
Shortest anchoring depth - only 40/50 mm
Quick assembly thanks to the short anchoring zone and the possibility of using a punch-tool in aerated concrete
Product information
Size

Product Code

Plug

Screw

Fixture

Screw drive

Diameter

Length

Diameter

Length

Hole diameter

d

l

d1

L1

df

[mm]

[mm]

[mm]

[mm]

[mm]

-

Ø10

R-FFS-N-10K050-A4

10

50

7

59

10

T40

R-FFS-N-10K060-A4

10

60

7

69

10

T40

R-FFS-N-10K080-A4

10

80

7

89

10

T40

R-FFS-N-10K100-A4

10

100

7

109

10

T40

R-FFS-N-10K120-A4

10

120

7

129

10

T40
Base material
Cracked concrete ≥ C12/15 (Use category A)

Solid Brick (Use category B)

Solid Sand-lime Brick (Use category B)

Hollow Sand-lime Brick (Use category C)

Hollow Brick (Use category C)

Hollow Lightweight Concrete Block (Use category D)

Aerated Concrete Block (Use category D)

Concrete ≥ C12/15 (Use category A)
Applications
Ventilated facades
Door and window frames
Garage doors
Gates
Industrial doors
Facade (substructures made of wood and metal)
Wall cabinets
Satelite dishes
Shelves
Handrails
Cable trays
Installation guide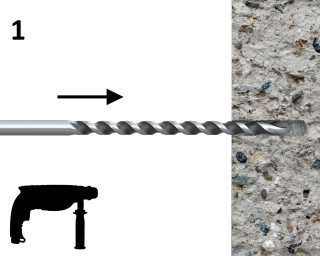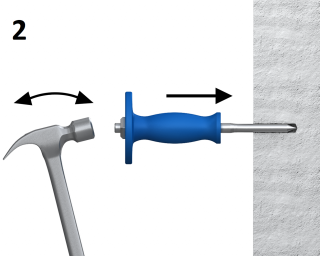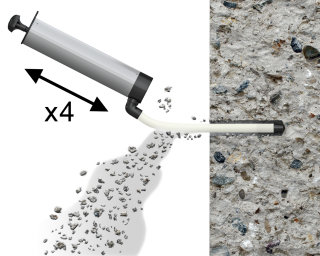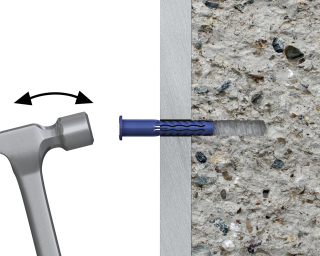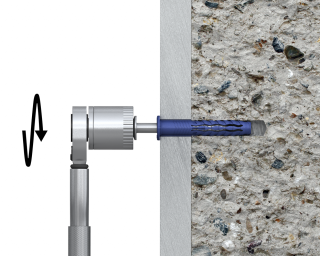 Drill a hole of required diameter and depth (figure 1 - base material A,B,C,D) or use punch-tool in aerated concrete (figure 2 - base material D)
With a hammer, lightly tap the plug through the fixture into hole until fixing depth is reached
Tighten the R-FFS screw
Installation data
Size

Ø10

Ø10

Effective embedment depth

hef

[mm]

40

50

Hole diameter in substrate

d0

[mm]

10

10

Min. hole depth in substrate

h0

[mm]

50

60

Min. installation depth

hnom

[mm]

40

50

Min. substrate thickness

hmin

[mm]

100

100

Min. spacing

smin

[mm]

70

80

Min. edge distance

cmin

[mm]

50

70

Head size

sw

[mm]

13

13

Screw drive

-

[-]

T40

T40
Downloads
Need documents for other product? Visit our Technical Library.
go to library
Contact us to get information about product availability and its price
Something went wrong... Please try again.
Fill in the form with your details and send request for a R-FFS-K-A4 Frame fixing with the shortest anchoring zone and collar hex head – stainless steel
Your request will be sent to our sales department. Please note this is not a purchase order.